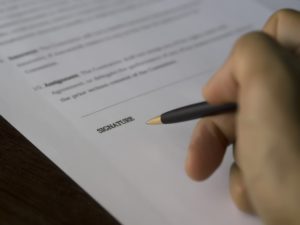 The Seventh Circuit Court of Appeals recently ruled that provisions in employment agreements requiring individual arbitration of wage and hour disputes are unlawful under the National Labor Relations Act ("NLRA"). The court found that such provisions violate employees' right to engage in "concerted activities for the purpose of collective bargaining."
In Lewis v. Epic Systems Corp., an employer required its employees to pursue wage and hour claims through individual arbitration and also waive their rights to any collective or class action proceedings. An employee later filed a class action in federal court, alleging that the employer violated the Fair Labor Standards Act ("FLSA") and Wisconsin law by misclassifying the class members as "exempt" employees and thus depriving them of overtime pay. The trial court denied the employer's request to compel individual arbitration. On appeal, the Seventh Circuit affirmed the trial court decision, finding the arbitration clause unenforceable because it violated the NLRA by interfering with the employees' right to collaborate for mutual protection.
The National Labor Relations Board ("NLRB") maintains that the NLRA prevents agreements that restrict employees from working in concert to resolve disputes and improve the terms and conditions of their employment through mutual aid and protection. Until Epic Systems, courts had not followed the NLRB's position, instead relying on the Federal Arbitration Act ("FAA"), which permits such arbitration agreements as valid, irrevocable, and enforceable, save upon such grounds as exist at law. In issuing its ruling, the Seventh Circuit in Epic Systems found no conflict between the FAA and NLRA, finding that because the restrictions on collective or class actions are unenforceable under the NLRA, they are unenforceable under the FAA.
The Epic Systems ruling runs contrary to the other federal courts of appeals, making it quite possible that the Supreme Court will step in to resolve the conflict. Until then, class or collective action waivers in pre-dispute arbitration agreements in the Seventh Circuit (Illinois, Wisconsin, and Indiana) are unenforceable and employers should be aware that they cannot rely on such waivers.
Employers should keep in mind that arbitration agreements for employees without class or collective action waivers are still enforceable. While the holding is limited to waivers that require consent as a mandatory term of employment, the NLRB suggests that all class or collective action waivers are unlawful, even when an opt-out is provided.
If you have immediate concerns about how the decision affects your employees, contact Marcus & Boxerman at (312) 216-2720 or info@marcusboxerman.com.