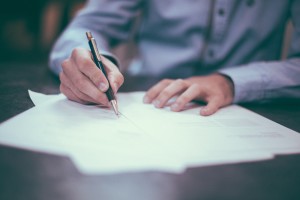 On April 28, 2015 the National Labor Relations Board ("NLRB") issued an advisory opinion to the NLRB Chicago Region regarding joint employment.  The NLRB concluded that neither Freshii Development, L.L.C. ("Freshii"), a fast-casual restaurant franchisor with over 100 franchised locations, nor its area development agent, is a joint employer with one of its Chicago-area franchisees.
In the summer of 2014, Nutrionality, Inc. ("Nutrionality"), a Chicago-area Freshii franchisee, terminated an employee for attempting to unionize fellow employees. The OGC was called to render an opinion as to whether Nutrionality and Freshii were joint employers, such that Freshii would be liable for any unfair labor practices committed by Nutrionality.
Click HERE to read the OGC's advisory opinion.
Under the current NLRB standard, franchisors are considered joint employers of their franchisees' employees only when they "share or codetermine those matters governing the essential terms and conditions of employment," such as hiring, firing, discipline, supervision and direction, determining wages and benefits, setting work hours and ongoing training of franchisee employees.
The OGC, however, recently proposed that the NLRB revert to a previous joint-employer standard, where a franchisor could be considered a joint employer even where the franchisor did not assert any direct or indirect control over terms and conditions of employment. Rather, the totality of the circumstances would be considered, and if "industrial realities" made the franchisor's participation necessary in the collective bargaining process, the franchisor would be considered a joint employer with the franchisee.
In this case, the OGC found that Freshii played no role in its franchisees' decisions regarding hiring, firing, discipline, supervision, wages, hours, benefits, and labor relations, and has never terminated a franchise agreement for "non-brand related reasons." The opinion noted that Freshii would not be considered a joint employer under either the current standard or the previous standard.
If the NLRB chooses to revert to the previous standard as the OGC advises, franchisors will once again be left a bit uncertain as to how to protect themselves from joint employer liability, but, for now, employers can best protect themselves by doing the following:
Define the franchisor/franchisee paradigm. Make sure your franchise agreements clearly state that franchisees alone are responsible for decisions related to personnel matters. Franchise agreements that dictate policies for day-to-day employee conduct scream joint employer status. Franchisors can still suggest policies, but they need to make it clear in the franchise agreement and related documentation that the franchisee is free to deviate from suggested policies and that the franchisee alone governs personnel matters of franchisee employees.
Maintain separation of powers. Now that you've defined which decisions lie exclusively with the franchisee, you need to follow through. Decisions related to hiring, firing, disciplining employees, setting wages, giving raises and employee scheduling are all essential terms and conditions of employment, and franchisors that impose on their franchisees decision-making open themselves up to a finding of joint employer status. Franchisors should heed to a hands-off tack when it comes to personnel matters.
Protect your brand image and customer experience. Although getting involved in personnel matters should be avoided at all costs, franchisors must retain discretion to set requirements for franchise standards, design, decoration, employee uniforms, and store hours because these are essential to maintaining a standardized product and customer experience.
Look but don't touch. Most franchisors periodically audit their franchisee-owned establishments, and well they should. But franchisor agents who perform the audits should refrain from directing or attempting to give guidance directly to a franchisee's employees. Instead, the franchisor's agents should direct their reviews and advice to the franchisee itself.
Sunshine is the best disinfectant. Make sure customers know they are patronizing an independent franchisee-owned business and make sure franchisee employees know they work for the franchisee, not the franchisor. Franchisors should require their franchisees to post clear notice, visible to both customers and employees, identifying the location as an independently owned and operated business.
Franchisors should take some comfort in the Freshii opinion, as it reaffirms a franchisor's right to set requirements for its franchisees that preserve the franchise image and brand, standardize franchise products, and ensure a consistent customer experience. To learn more about joint employment and to find out how your business may be impacted, contact us at (312) 216-2720.