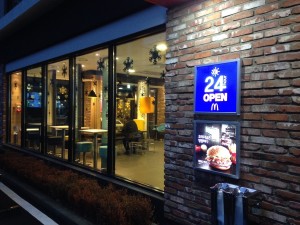 On December 19, 2014, the National Labor Relations Board (including a regional office in Chicago)  filed 13 complaints against McDonald's for alleged violations of federal labor laws by its franchisees. The complaints allege that the franchisees and the company punished workers for participating in fast food protests by reducing the workers' hours or even firing them. Against 50 years of precedent, the NLRB ruled that McDonald's is a joint employer of the employees of its franchisees, making McDonald's potentially liable for employment laws broken by more than 3,000 U.S. franchises. The NLRB's general counsel explained that McDonald's "wields such extensive influence over the business operations of its franchisees that individual franchise operators have little autonomy in setting or controlling workplace conditions."
Read the NLRB's Press Release Here
The NLRB's action is particularly noteworthy because McDonalds' franchisees operate under contracts that explicitly relieve McDonald's from any responsibility for hiring, firing and supervising restaurant employees. Currently, federal anti-discrimination statutes reject the joint employer status of franchisors like McDonald's, but in wake of this recent NLRB action, other federal agencies may follow suit.
It is unclear whether the courts will accept the NLRB's ruling, and assuming a settlement is not reached, the 13 cases will be brought before administrative law judges beginning March 30 in Chicago, Manhattan, and Los Angeles.
Impact on Franchise Law
Considering the NLRB's controversial decision, franchising may be a less attractive business model for the franchisors, as they would become liable for personnel (and potentially other) decisions made by their franchisees, who are traditionally seen as independent business owners.
And franchisees may lose more independence over how they operate their business, while labor unions would be easier to form and could consequently subject more franchisees to the Affordable Care Act's employer mandate. To read more about the employer mandate, click here.
To learn more about this decision and its implications, contact us at (312) 216-2720.