The Time's Up Legal Defense Fund (Defense Fund), known for providing legal assistance to victims of sexual misconduct, recently started targeting McDonald's restaurants to pursue sexual harassment claims. On May 21, 2019, the Defense Fund, the American Civil Liberties Union, and the fast-food workers coalition Fight for $15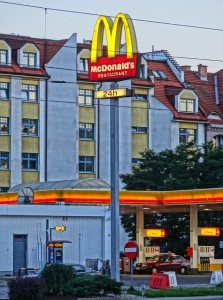 announced the filing of 25 new sexual harassment and gender discrimination cases against McDonald's restaurants.
These new complaints come on the heels of ten harassment and discrimination charges filed against McDonald's restaurants with the Equal Employment Opportunity Commission (EEOC) in May 2018, and a September 2018 strike where thousands of McDonald's workers in 10 cities protested the company's "widespread" misconduct. The Defense Fund states in a letter to top McDonald's executives that the company failed to adequately address sexual harassment claims filed with the EEOC one year ago.
Of the 25 new cases, 20 were filed with the EEOC, three were filed as civil rights law suits, and two suits stemmed from previous allegations. Current and former McDonald's workers argue that these allegations include gender-based discrimination, sexual harassment in the workplace, and retaliation for reporting incidents of harassment.
McDonald's workers are calling for McDonald's to provide employees better protection against sexual assault and harassment in the workplace by providing comprehensive training for employees and managers, guaranteeing fair and effective processes to report harassment, as well as ensuring employees do not face retaliation for reporting misconduct. These claims are not unique to McDonald's, however, as workers in the restaurant industry are exposed to sexual harassment at a higher rate than workers in other industries.
The chief executive of McDonald's, Steve Easterbrook, addressed these concerns in a letter to Senator Tammy Duckworth (D-IL) on Monday, May 20th. He said that the chain has been working with the anti-sexual violence organization, RAINN, to update and improve its policies on harassment by making better efforts to inform employees of their rights, providing training to restaurant owners and general managers and in the next few months will provide harassment training for crew members and launch a reporting hotline. Illinois politicians seem to be wary of relying upon restaurant owners to establish adequate anti-harassment policies, as they proposed a law to require anti-harassment training take place in restaurants. That law, the Restaurant Anti-Harassment Act, is currently under review in the House Rules Committee and is expected to be effective on January 1, 2020.
Although the Defense Fund is currently targeting McDonald's restaurants exclusively, its focus could soon change to other franchised restaurants, and the restaurant industry as a whole could experience more harassment-related claims as a result of the Defense Fund's work.
As a restaurant or franchise owner, it is important to ensure that the directors and managers of your company know how to handle sexual harassment complaints and that your employee handbook has clear policies outlining your procedures for how to address workplace sexual harassment. If you have any questions about your sexual harassment policy or how to address employee allegations of sexual harassment in the workplace, please contact Marcus & Boxerman at (312) 216-2720 or firm@marcusboxerman.com.